From the very invention of the suppressor in 1909, .22's have been wildly popular to use with silencers. Part of it has to do with how common the round is. But it is also cheaper to make .22 suppressors, and there are a lot of subsonic rounds still suitable for pest control and target shooting, making a silenced .22 a "must have" for our great grandparents and modern shooters alike.
Choosing the .22 suppressor that's best for you may seem intimidating at first. That's why we've put together this guide to make the decision making process a little easier. Use the links below to navigate the guide.
Choosing the Right Suppressor for Your Needs
Everyone has different needs for a rimfire suppressor. Every suppressor buyer is painfully aware of the $200 tax stamp that can effectively double the price of some .22 silencers, so even budget minded buyers are looking for the most (or is it "least"?) bang for their buck.
Not all end users are the same, either. A person who is happy with an Ruger 10/22 with an integrally suppressed barrel may not care if they buy one silencer for all their .22's. A pistol shooter may want a shorter, lighter silencer, while a rifle shooter wants lightweight and performance. A person with both .22 rifles and pistols would dearly love one silencer that can be quickly configured for pistol or rifle use – like the BANISH .22.
We have found when our customers look for a .22 suppressor, the following criteria most often come into play:
Cost
Weight
User serviceability
Ease of cleaning
Ability to use with magnum cartridges
Durability
Of course, not all silencers can be all things to all people. A person whose primary concern is cost will not be interested in an advanced titanium silencer. Alternatively, a person buying a user configurable titanium silencer probably isn't making price their primary evaluation criteria.
Only you know your budget, and a look at in-stock suppressors will satisfy that point for you. But if you move beyond price point, you have other things you can consider, all of which depend on the kind of gun you are using and what your end use is.
For target shooters, a quiet, light suppressor that is easily cleaned is a must have. Rimfire suppressors get filthy with powder fouling and lead, and when not cleaned, can clog up in as little as 500 rounds.
Hunters also want a light suppressor, but they may be more tolerant of cleaning, as they probably aren't firing as many rounds in a session.
If you own many guns, you want a suppressor that can not only be readily used on a rifle or pistol, but can handle things like different rimfire magnum cartridges and semi-auto fire.
Buy a BANISH 22
The Best Overall .22 Suppressor
There is exactly one .22 suppressor that is lightweight, easy to clean, configurable across multiple guns, user serviceable, all titanium, priced right for its class, and intended to be a single purchase item to use on every rimfire .22 and smaller gun you own.
The BANISH .22 was designed from the ground up to be the ultimate rimfire suppressor. It is insanely easy to clean when treated with the right internal coatings, is a low-cost all titanium unit, and is rated for every .22 and smaller rimfire round, and even some .22 caliber centerfire rounds.
Naturally we are a tad bit biased in favor of the BANISH 22. If you want a somewhat more flexible option that not only can be used on your favorite rimfire but your AR-15 too, the Coastal Guns .223 XDS is a slightly cheaper option but comes with the drawbacks of being heavier steel construction and not as configurable as the BANISH 22.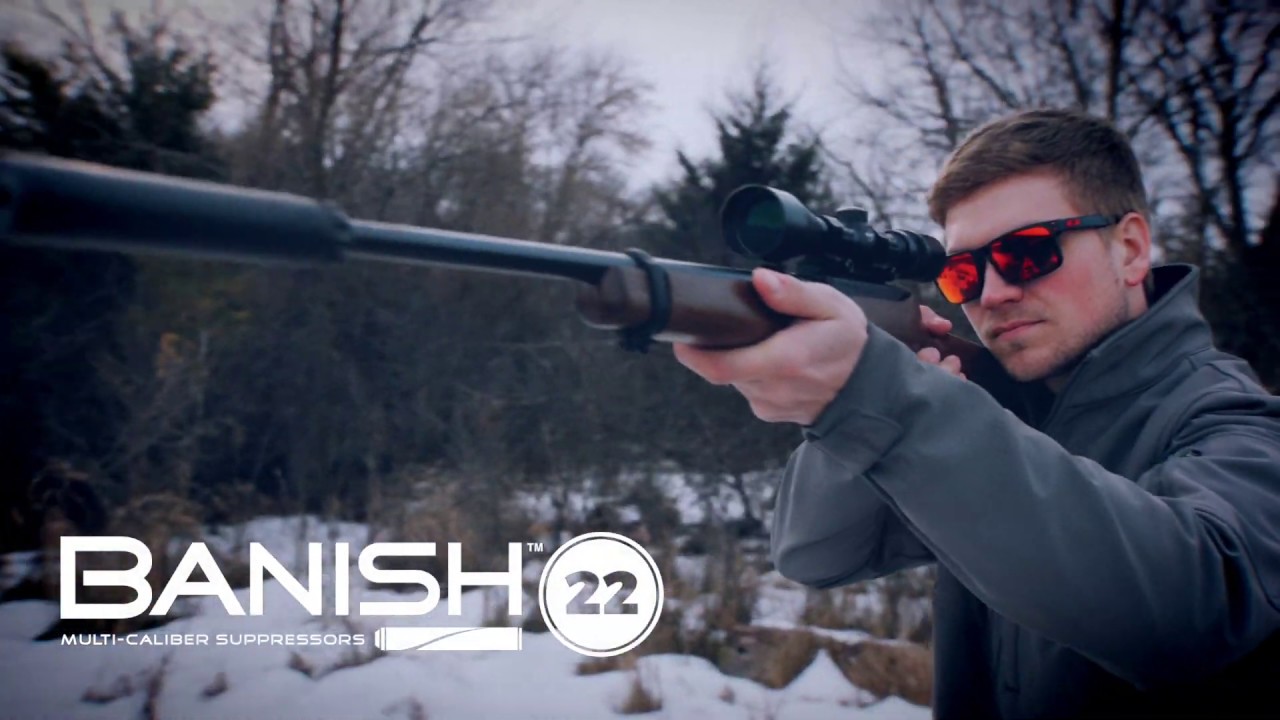 The Best .22 Suppressor for Your Money
This one is kind of subjective because best for you may not be best for someone else. However, considering we sell everything from high end titanium .22 suppressors to fully integrally suppressed Ruger 10/22's, we've got one very useful tool for determining the best .22 suppressor for your money.
Our single best seller is the Zulu .22 LR by Mack Brothers. Priced right at $345, it strikes a balance between cost, performance and function that simply can't be beat. Granted it is heavier than some since it's made of high grade stainless steel, but it's user serviceable, easy to use, and built to last lifetimes.
Based on sheer sales volume and customer feedback, we feel the Mack Brothers Zulu .22 is the best suppressor for your money today.
SHOP RIMFIRE SUPPRESSORS
The Quietest .22 Suppressor
The AAC Element is widely known to be one of the quietest .22 suppressors out there, with an incredible 41 decibel sound reduction potential! That means an AAC Element can make your gun nearly as quiet as a Red Ryder BB gun. Other high end silencers like the BANISH 22 offer similar performance.
The AAC Element is fully user serviceable and offers the lower cost of a steel body with titanium baffles, which gives you the best of both worlds. And the baffle stack is extremely easy to keep clean. This addresses a common problem with other rimfire silencers with harder to clean aluminum or steel baffles.
Our integrally suppressed Ruger 10/22 by Yankee Hill Machine offers about a 30 decibel reduction as well, making it one of the quietest integrally suppressed .22's available today. This is the best Ruger 10/22 suppressor because it's designed from the ground up for the Ruger 10/22! Reducing the normal 140 decibels sound of standard .22 ammo to an easy-on-the-ears 121 decibels, this by far is the best Ruger 10/22 suppressor of it's type.
Remember, the goal of any suppressor is to get noise levels below the 140 decibel threshold, above which is considered dangerous for hearing. .22 rimfire already operates in that range, so it honestly doesn't take much of a suppressor to make it hearing safe. Instead, with .22's, the name of the game is to drive that sound as low as possible.
Naturally you'll get the quietest results from subsonic ammo. But even using supersonic ammo, the quietest .22 suppressors will leave you hearing just the sound of the bullet, and completely or nearly completely suppress the sound of the muzzle gas.
The Best .22 lr Suppressor
When considering the best .22LR suppressor, we again come back to balancing a great number of choices. Cost, material, design, intended end use, even the type of gun you are mounting it on all are important factors in deciding the "best" .22LR suppressor.
With that in mind, we offer you three "best" .22 LR suppressors that all reign supreme in the niches they best fill.
The BANISH 22. The king of all titanium, user serviceable and configurable suppressors. Able to be adjusted in size for the intended end use, the BANISH .22 is the ultimate combination of noise reduction, weight, cost, and flexible design that cannot be met by any other competing suppressor.
Mack Brothers Zulu 22. Our best seller for a reason! This high end suppressor comes with a low dollar price tag, best in class noise suppression, is fully user serviceable and is light enough to use on a pistol, but tough enough for semi-auto use.
Yankee Hill Machine integrally suppressed 10/22 package. The ultimate integrally suppressed 10/22 barrel paired with the ultimate all around .22 rifle. There is nothing you can't do with this package from match shooting to varmint hunting, to just plinking a can around the range. Whisper quiet, and the perfect all in one gun and suppressor combo, we can hardly keep this gem in stock!
Get a BANISH 22
What's the Best Host for a .22 Suppressor?
Now this is a darn good question. Of course we are happy to sell you our Yankee Hill Machine integrally suppressed Ruger 10/22. This gives you an out-of-the-box suppressed rifle experience on what is arguably the most popular rimfire platform in America.
However, there are a great many other .22's out there and they vary in how useful a suppressor platform they really are. So first we should consider what makes a bad suppressor host, so we can weed that out and look for the best.
As a general rule, cheap guns are not ideal suppressor hosts. Sure, there are people who have suppressed some astounding arrays of cheap Saturday Night Specials just to say they did it. And the reality of .22 physics means if you can stick a suppressor on it, it probably will work well enough. (Except for revolvers, but that's because revolvers aren't a suitable silencer platform outside of limited special cases.)
The best .22 pistol for a suppressor ideally is one that is not a cheap gun that will wear out and shoot itself loose in a few years. We like the Ruger Mk IV or older guns, the Smith and Wesson Victory, or any other quality .22 target pistol.
If you are going to put a suppressor on a .22 you want an accurate gun, and if it is semi auto, one that can be readily tuned to adjust for the changes in pressure from suppressor use. Many people put suppressors on various target .22 pistols and bolt action rifles because they are already built for performance and accuracy.
Manually operated guns like bolt actions always make ideal suppressor hosts because they are always going to be quieter when suppressed. Granted, with a .22 using certain kinds of ammo, you pretty much only hear the sound of the action cycling, but a bolt action or other manually operated gun will always be quieter than a semi auto.
Many inexpensive vintage .22 bolt actions can even be turned into viable suppressor platforms. Because they tend to be chambered for .22 Short/Long/Long Rifle they offer great benefits for choosing different types of subsonic rounds. And they are easily fitted for a suppressor using our special mail-in barrel threading program.
Basically, if it's a well built .22, you're fine. But if you want the best performance, buy the best gun for the type of shooting you are doing. Good target guns for target shooting, all around guns like the 10/22 for general purpose use, or even a .22 upper for your AR for tactical fun!
How to Buy a Suppressor
There are a few ways to buy a suppressor. You could always go to a gun store, hope they have one or two in stock, pay for it, do the paperwork, come back with an NFA gun trust, wait for approval, go back to the store and then pick it up.
Or you could do it the Silencer Central way from the comfort of your own home.
We've revolutionized suppressor purchasing. We are the only company authorized by the ATF to do 100 percent mail order suppressor sales. In fact, many of our customers have never set foot in any of our locations! How does this work?
Simple! Choose the silencer you want – and if you need help, our expert staff with decades of industry experience will work with you to find the right suppressor for your needs. Then, put some or all of the money down (we offer a great layaway program!) and pay for your tax stamp. We will mail you prefilled Federal paperwork, an absolutely free NFA gun trust, and instructions on how to fill out whatever information we couldn't put in the form, and how to submit your fingerprints to us for the ATF.
After that, as soon as the paperwork is approved by the ATF we mail your silencer and registration form directly to your door! No more trips to a shop or reliance on somebody else's business hours.
Ready to put a silencer on your favorite .22? Visit our online store and choose from the best .22 suppressors on the market!
Get Started