The Year none of us will never forget (2020) set records for the sale of firearms, ammunition, and pistol suppressors. We think now is as good a time as any to take a look at the best pistol suppressors that are available for 2022.
These may be the most unusual years in our lifetimes due to COVID-19, social distancing, stay at home orders, quarantining, remote working, and the upcoming presidential election. In the early days of the crisis, we saw hoarding of ammunition and firearms like handguns with a seemingly unprecedented level of panic buying. Now it appears to be spreading to the NFA (National Firearms Act) realm, particularly with suppressors.
The rush to buy firearms, particularly among those first-time buyers who previously either sat on the fence, were outright opponents of the Right to Keep and Bear Arms or those who never got around to it completely overwhelmed the NICS (National Instant Check System). The system reported delays as long as three weeks for many unlucky citizens.
On the NFA side, wait times which can normally run from six months to a year are holding steady, if not speeding up a bit. This may be the time to get ahead of the curve if you have been considering the purchase of a pistol suppressor. If you're in the market but not sure what to buy, we've done the research for you.
Here's our lineup of the best pistol suppressors in 2021:
| Category | Name | Caliber | Weight | Length | Price |
| --- | --- | --- | --- | --- | --- |
| Best Overall Pistol Suppressor | Banish 45 | .45 | 9.6 or 11 oz. | 6.7" or 8.6" | $949 |
| Best 9mm Pistol Suppressor | AAC Illusion 9mm | 9mm | 10.4 oz. | 7.88" | $799 |
| Best .45 Pistol Suppressor | Gemtech Lunar-45 | .45 | 11.3 oz. | 8.5" | $796 |
| Best Pistol Suppressor for the Cost | Ultima 45 | .45 | 10.4 oz. | 9.5" | $550 |
| Best Multi Caliber Pistol Suppressor | Silencerco Hybrid 46 | .45 | 17.3 oz. | 7.8" | $999 |
| Quietest Pistol Suppressor | Rugged Obsidian 45 | .45 | 10.7 or 12.8 oz. | 6.7" or 8.6" | $850 |
Best Overall Pistol Suppressor
It may seem as if we are playing favorites, but we think that the BANISH 45 is the best overall pistol suppressor on the market today. It uses an interchangeable piston mounting system in a variety of thread pitches and a fixed barrel spacer is available to run it on carbines and rifles.
The BANISH 45 is the lightest in its class at a mere 9.6 oz in the short configuration. Ideal for 3-gun or target shooting, the BANISH 45 will help protect the hearing of the shooter and others in a shooting competition and reduce recoil for quicker second shot target acquisition.
Additionally, this is a modular pistol silencer that the user can run in either a compact 6.7" length or the full size in 8.6".
Buy a BANISH 45
Like all BANISH suppressors, the BANISH 45 is completely user-serviceable. Testing shows the BANISH 45 suppresses a 9mm pistol 36 decibels, far more sound reduction than the competition.
Advantages:
The BANISH 45 easily disassembles for cleaning and maintenance.
This is a very lightweight suppressor coming in at 9.6 ounces and only 6.7" in length when set up in the shorter configuration.
The ability to shoot everything from a .22 rimfire to 45 ACP and a few other calibers like 380, 44 Magnum, 300 Blackout (subsonic), and makes the BANISH 45 an extremely versatile pistol suppressor.
This modular suppressor can be assembled in two different lengths, making it extremely versatile for the shooter.
Disadvantages:
If there is a drawback to the BANISH 45, it is the price. Yet that high retail price guarantees quality, versatility and modularity.
Specs:
Caliber: .45
Weight: 9 ounces
Length: 7 inches
Sound reduction: 36 dB
Price: $949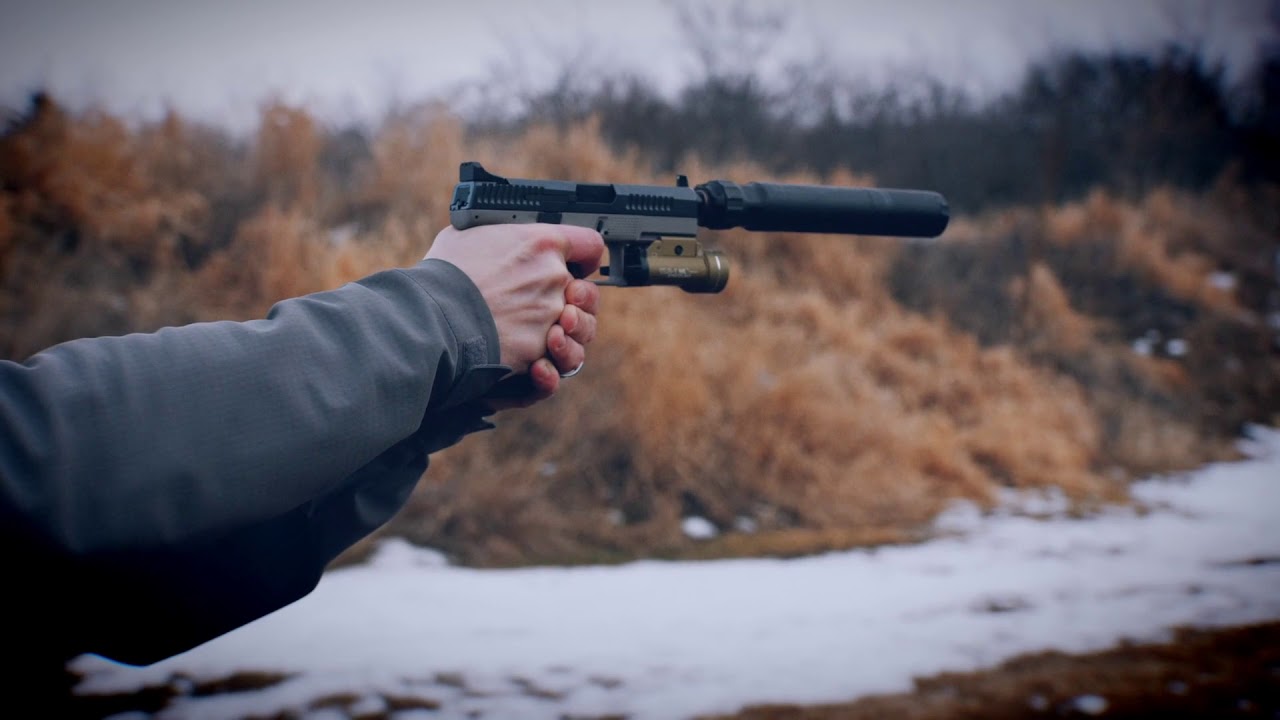 Best 9mm Pistol Suppressor
The Illusion 9 is a compact, high-performance silencer for modern 9mm semi-automatic pistols. Like the Maxim model 1910 silencer, the Illusion 9 features an offset, non-centralized bullet path and is referred to as an eccentric as opposed to a concentric design.
Unlike the original Maxims 1910, the Illusion 9 incorporates a highly evolved, patent-pending A.S.A.P. (Assured Semi Automatic Performance) system that ensures reliable operation on a broad spectrum of self-loading host pistols. This revolutionary design also enables users to quickly and easily adjust the rotational orientation of the silencer to provide an unobstructed sight picture on most hosts equipped with standard-height sights.
The tabbed captured cone baffle stack of the Illusion 9 can be easily removed from the tube for cleaning and maintenance without the use of specialized tools and features a heat-treated, 17-4 stainless steel blast baffle with a durable nitride finish. Users can quickly and easily configure the Illusion 9 with adapter pistons for barrels with ½-28 tpi and M13.5 x 1 LH threads.
Features/Advantages:
The eccentric design allows shooters to more easily see and effectively use the standard iron sights on the pistol.
The Illusion 9 easily disassembles for cleaning and maintenance.
At 7.8" in length and 10.4 oz in weight, the Illusion 9 is a fairly compact and lightweight pistol suppressor.
Disadvantages:
The Illusion 9 is only available in 9mm.
Only two thread pitches are available for the piston system.
Specs:
Caliber: 9mm
Weight: 10.4 oz.
Length: 7.88"
Sound reduction:
Price: $799
Best .45 Pistol Suppressor
The Gemtech Lunar-45 is the culmination of decades of silencer innovation; making it one of the lightest and quietest modular 45 caliber pistol silencers on the market.
Crafted from military-grade aluminum and titanium, the Lunar-45 provides the utmost in durability and strength.
The Lunar-45 quickly and easily disassembles for service and cleaning. Likewise, it can be assembled in two different lengths.
There are a variety of mounting options for the Lunar-45, allowing it to be used on a variety of platforms and calibers including 9mm, 40 S&W and 45 ACP.
A very versatile and robust pistol suppressor, it can be hard to find at times as assets and parts go through Smith & Wesson as opposed to Gemtech. Still, this is a good pistol suppressor to pick up if you have the opportunity.
Shop 45 ACP Silencers
Features/Advantages:
The Lunar 45 easily disassembles for cleaning and maintenance.
The ability to shoot everything from a .22 rimfire to 45 ACP and a few other calibers like 300 Blackout (subsonic) makes the Lunar 45 an extremely versatile pistol suppressor.
This modular suppressor can be assembled in two different lengths, making it extremely versatile for the shooter.
Disadvantages:
This one can be hard to find since the acquisition of Gemtech by Smith & Wesson.
In addition to this pistol silencer being difficult to locate, pistons may also be scarce or on the pricier side.
Specs:
Caliber: .45
Weight: 11.3 oz.
Length: 8.5"
Sound reduction: 28 dB
Price: $796
Best Pistol Suppressor for the Cost
The Ultima 45 ACP is a high-quality pistol suppressor constructed of aircraft-grade Aluminum and Stainless Steel.
This suppressor utilizes a piston system called the Recoil Attenuation Device (R.A.D.). The R.A.D. is a Nielson Device designed so the Ultima will function on semi-auto pistols.
The finish is anodized matte black. The Ultima sound suppressor can be shot wet or dry and has a very high reduction with first-round pop. This unit is not sealed so the user may disassemble it for cleaning. It is primarily intended for use on pistols chambered in 45 ACP, 40 S&W and 9mm.
Shop 45 ACP Suppressors
Features/Advantages:
The Ultima 45 disassembles easily for cleaning and maintenance.
It is one of the lower-priced pistol suppressors on the market while maintaining a high degree of quality.
Disadvantages:
This pistol suppressor is slightly heavier and thicker than most pistol cans. It may call for the use of suppressor height sights or a red-dot sight.
Specs:
Caliber: .45
Weight: 10.4 oz
Length: 9.5"
Sound reduction:
Price: $550
Best Multi-Caliber Pistol Suppressor
The Hybrid 46 from SilencerCo is one of the most versatile 45 pistol suppressors we have ever seen.
At a length of 7.8" and a weight of 17.3 ounces, the Silencer Co Hybrid is a durable and versatile suppressor that is both full-auto and magnum-rated. Aptly named, the Hybrid is designed to perform on pistol calibers from 9mm to .45 ACP, rifle calibers from 5.56mm to .45–70 GOV, and many options in between, such as .458 SOCOM. Sporting a titanium and stainless-steel build, Silencer Co's Hybrid 46 will meet and exceed most caliber demands.
On a variety of hosts, this fully welded model boasts effective sound suppression while providing the shooter a plethora of caliber options. The Hybrid 46 is suited to 16" barrels for .45–70 GOV and .458 SOCOM, as well as 18" barrels for your magnum needs. Whether you prefer shooting a pistol, a rifle, or a submachine gun, the Silencer Co Hybrid is truly a jack-of-all-trades pistol suppressor.
Features/Advantages:
This is an extremely versatile suppressor that can handle full-sized rifle cartridges including 5.56 NATO, 45-70 Government and 308 Winchester.
Full auto rated due to heavy-duty components.
Disadvantages:
If there is a drawback to the Hybrid 46 it is the weight of over 1 pound.
It is not user-serviceable.
Pistons can run on the pricier side.
Specs:
Caliber: .45
Weight: 9.6 or 11 oz
Length: 6.7″ or 8.6″
Sound reduction: 36 dB
Price: $999
Quietest Pistol Suppressor
The Obsidian 45 by Rugged Suppressors is a modular, full auto, and belt-fed rated silencer constructed of stainless steel and aluminum that is one of the quietest pistol suppressors on the market.
In its full configuration, the Obsidian 45 is 12.8 ounces and has a 8.6-inch length for optimized suppression. To increase maneuverability, this modular silencer can be shortened to 6.7-inches and only weighs 10.7 ounces.
The Rugged Obsidian 45 uses a non-slotted piston design, which creates a full circumferential gas seal, ultimately lowering gas blowback. With their revolutionary mounting system and baffles constructed of stainless steel and an aluminum tube, the Obsidian 45 offers the perfect combination between a lightweight and durable suppressor built to withstand the test of time.
Additionally, Rugged Suppressors designed the Obsidian 45 with two indexing tabs which not only assists in preventing carbon buildup but also allows for fast and easy proper alignment.
Features/Advantages:
The non-slotted piston design not only creates a superior gas seal for reducing blowback but makes the suppressor seem quieter.
Two indexing tabs help prevent carbon buildup and allow for fast and easy proper alignment.
This modular silencer has a variety of thread adapters available.
Disadvantages:
The rugged design, build quality and materials make this one slightly heavier than its counterparts.
Specs:
Caliber: .45
Weight: 10.7 or 12.8 oz.
Length: 6.7" – 8.6"
Sound reduction: 37 dB
Price: $850
How to Choose a Pistol Suppressor
Pistol suppressors are looked down on by a lot of shooters because pistols do not come across as particularly loud when compared to the sound report of a full-sized rifle cartridge. Adding to that is the fact that while rifles are more than often carried by hand or by means of a sling, a pistol is typically transported in a holster. A suppressed pistol is usually not carried in this manner and the extended length with a suppressor attached makes a pistol harder to carry concealed.
However, a suppressed pistol can make for a valuable training aid as they reduce recoil and noise flinch. Additionally, they are some of the most fun shooting handguns out there.
There are many factors that go into choosing a pistol suppressor. Although they all look outwardly similar, each one has its advantages and drawbacks. The bottom line is that it all boils down to what each particular shooter is looking for. There is a difference between what a shooter who only shoots one caliber or has very few capable hosts needs and what someone who has a threaded barrel on every handgun they own.
For most shooters, weight and length are going to be important considerations; sometimes a can that is too long will impede the balance of the handgun. For a CQB type suppressor, length and durability are more critical. Someone who has an assortment of firearms that can share a pistol suppressor may have to evaluate whether it is easier to go with a fixed thread pattern or one that is capable of using various thread adapters.
Most pistol suppressors can easily be converted from one thread pitch to another by changing the booster or a piston. This is usually a by-product of a Nielsen device.
The Nielsen Device
The Nielsen Device was invented by the late Mickey Finn of Qual-A-Tec and was designed to push the weight of the suppressor from the barrel to aid in reliability. According to AAC (Advanced Armament Corporation), one of the first companies to commercially offer this type of system, the device works as follows:
"Upon firing, high-pressure gases enter the silencer and propel it forward against the tension of the (booster's) spring. While the majority of the silencer's weight is in this 'floating' condition, the host weapon's firing cycle is able to proceed unhampered. The spring within the (booster) returns the silencer to its unfired state, ready for subsequent shots. This sequence of events takes place so rapidly, the shooter is unaware it has occurred."
Previous Nielsen Devices were a modular component that had to be added to the suppressor or the host pistol and hampered sound reduction, making the suppressor noisier. By making the booster or piston an integral part of the system, manufacturers realized they could make interchangeable threaded mounting adapters instead of a dedicated rear cap. These threaded pistons meant that pistol suppressor could be used on more than one firearm with different thread patterns such as ½-28, ½-32, and Metric 13.5 x 1 LH.
If there is a drawback to the piston or booster system in handgun suppressors it is that it will not work well on a fixed barrel firearm such as a carbine or rifle. As the expanding gases move through a suppressor with a spring-loaded piston on a barrel that is stationary, a malfunction can occur which can damage either the firearm or the suppressor. The solution here is to use a properly sized fixed barrel spacer in a pistol suppressor when it is mounted on a pistol caliber carbine or rifle.
Pistol caliber carbines are not the only long guns that can benefit from the use of a pistol suppressor. Certain rifle cartridges like 300 Blackout and 350 Legend can be effectively suppressed with most pistol silencers. The benefit to this is that pistol caliber silencers are most often less expensive than their rifle caliber counterparts. If you are thinking of going this route, check the manufacturer's ratings to see if the suppressor can withstand the round in question.
Wet vs. Dry Suppressors
Another consideration when looking for a pistol suppressor is whether or not the suppressor has the ability to be run "wet". What this refers to is the use of an ablative within the suppressor to make it quieter. The most common ablative is a bottle cap full of water poured into the body of the suppressor from the rear prior to mounting. Some shooters use wire pulling gel, sonogram gel, oil, lithium grease, or another semi-permeable liquid.
The science behind this is that the medium cools the molecules of the hot expanding gases and imparts less sound, particularly the dreaded "first round pop", when the projectiles exit the suppressor body. It works best in rimfire and pistol caliber suppressors but is not recommended for rifle silencers.
It is important to evaluate your needs and goals before you go into this and to even consider future needs and goals, as these do tend to change over time. You may have only one 9mm pistol for which you will need a suppressor at this time. That may change in six months or even 3 years from now should you add a .45 caliber handgun to your collection or maybe a short-barrel rifle or braced pistol that has a threaded barrel and shoots a pistol caliber.
Finding the Right Suppressor for You
As we mentioned earlier, the best pistol suppressor can mean a lot of different things based on the shooter's needs. At first glance, most of these pistol suppressors look very much the same. However, each one is different enough that a closer look will bear out what shines about each model.
Always remember, it is your firearms that will dictate which one works best for you. If you own a lot of firearms besides just a G19 with a threaded barrel, you will want a pistol suppressor that can not only be readily used on your Glock but can handle different thread patterns in 9mm or can be used on your 45 or even a 10mm. In those cases, a simple 9mm suppressor will not be up to the task but the multi-caliber BANISH 45 would be perfect!
Aside from your specific needs, versatility with regard to mounting and calibers is important in the suppressed realm of shooting. If your collection is small and you are looking to expand it, try to factor in what you may want to add in the future. Remember that larger diameter pistol silencers in .45 can be used on firearms chambered in pistol calibers that are smaller in diameter such as 380, 9mm, 10mm, 357 Sig, 300 Blackout (subsonic) and even 22 rimfire, although we typically recommend a rimfire specific suppressor for the latter.
Get started now, buy your pistol suppressor today.
Buy a BANISH 45