Your Source for Suppressors In Florida
Are you tired of trying to figure out how to buy a silencer in Florida? Silencer Central is Florida's #1 resource for buying a suppressor online. We will help you select the silencer that meets your needs, no matter if it's a rimfire silencer, a shotgun silencer or a high end .50 BMG, as the nation's largest silencer dealer, we've got you covered. Our massive inventory and exclusive multi-caliber BANISH Suppressor line ensures you will get the silencer you want as quickly as the ATF can process your paperwork.
Your silencer will be shipped directly to your front door once approved. There is no need to find a dealer location in your state, we are licensed in Florida and can sell directly to you. No more searching for a gun store that happens to also sell silencers. Silencer Central has been selling silencers for nearly two decades, it's all we do! AND…we bring you the quality and service that no other dealer can offer. We will even let you pay for it while you wait for it with 25% down and four eZ-Pay, interest-free installments.
Are Silencers Legal in Florida?
You bet they are! Most states allow silencer ownership and use in hunting. In Florida, you can use your silencer for target shooting, home defense, hunting, or any other legal use. Silencers are the most popular NFA item to own, and are becoming increasingly recognized as must-have equipment for polite and safe hunting, sport shooting and personal protection. Every gun owner should consider a silencer: They reduce sound and recoil, making shooting a better experience.
To own a silencer in Florida, you can simply purchase from Silencer Central, your local licensed dealer, and we will complete the ATF registration paperwork. We even give you a free NFA gun trust so you can let your family and close friends legally use your silencer too!
Are you ready to buy a silencer? Silencer Central has simplified the buying process so all you have to do is choose the silencer that is right for you, and we'll guide you through the rest of the process. Unsure of what the best silencer for your needs is? We are happy to help you select the one you want. We've got real world test data on dozens of different silencers, and will match up the right silencer for your gun and your needs.
Silencers are all we do. We have a full-time staff dedicated to making sure your silencer buying experience goes without a hitch. You don't even need to leave your house. Buy online, we digitally manage the paperwork, and ship to your front door once approved. It really is that SIMPLE.
What Are Class 3 Firearms?
On June 26, 1934, the U.S. congress passed a law regulating the use of certain firearms under the National Firearms Act (NFA). This act classified certain firearms as weapons that must be tightly controlled in order to promote public safety.
Much of the legislation was a response to the "gangster" days of the era, where criminals with Thompson submachine guns would wreak havoc on hapless citizens. Since fully automatic weapons, short-barrel weapons and silencers posed the most vivid-looking threats, congress severely limited their ability to be owned by citizens, even those that had never committed a crime in their life.
Class 3 firearms include:
Suppressors
Short barrel rifles
Short barrel shotguns
Explosive devices like grenades
"Machine Guns" with receivers that enable fully automatic fire or rapid burst fire
Any Other Weapon (AOW) a catch-all category for small, concealable weapons or devices like the pump-action
"Super Shorty" shotgun
Creating a gun trust can help loosen the regulations required to possess class 3 weapons like silencers, shortening the time needed to process applications and requiring less personal information overall.
Visit our FAQ page or our article on how to buy a suppressor to learn more about the buying process and how we make it easier.
What is a Gun Trust?
To know what a gun trust is, it helps to know what a living trust is first. Living trusts are legal arrangements where one person, known as the "beneficiary," can own the property of another person, a "trustee," on their behalf. Living trusts work similarly to wills in that they transfer property in a way that is legally binding and indisputable.
One interesting use of a trust is that the trustee and the beneficiary can be the same person. In other words, rather than someone "owning" a property outright, the property belongs to the trust and the trust belongs to the person. Confusing? Yes, but it allows for property ownership that has extended legal benefits.
A gun trust is nearly identical to a living trust but one that is filed specifically for property that is normally NFA firearms. More formally known as an NFA trust, these arrangements allow firearm owners to skip many of the legal requirements for buying, selling or transferring firearms. They are most useful for items that are tightly controlled like class 3 weapons such as:
What Does a Gun Trust Do?
Just because class 3 weapon sales are now legal does not mean that they are convenient or even realistic to the average firearm owner. Requirements include:
A form including the name of the seller/transferor, the buyer/transferee and a description of the firearm
The serial number of the firearm along with the new owner's fingerprints and a photo of the new owner
An NFA tax stamp costing $200
With a gun trust, the added trustee can avoid having to send in fingerprints and photos. Getting these steps out of the way greatly simplifies the buying process for people who want to own a suppressor without waiting months for the paperwork to clear.
Consult a lawyer near you to arrange for your gun trust to be filed or discuss with Silencer Central on how to obtain a FREE Florida Gun Trust. Best of all, this trust can be used to procure other firearms and regulated accessories, so a one-time arrangement can benefit the sale of all your other suppressor purchases down the road!
Silencer Central can help you transfer your new suppressor to your trust through our knowledge and experience, we have completed over 4,000 silencer transfers into NFA Gun Trusts. We have helped countless individuals in the Midwest get their trusts setup correctly and use them to purchase Class 3 toys. We can even help you modify the gun trust in the future as state laws change. Visit our FAQ page to learn more.
Buy Your Suppressor from a Trusted Florida FFL Dealer
We make buying a silencer as easy as 1-2-3 with a simplified process that isn't intimidating. Dealing with the government and their regulations is enough to discourage even the most savvy shooting enthusiast. Silencer Central makes it simple to own a silencer. We do all the work for you by helping you select the right silencer for you, managing all paperwork digitally and shipping to your front door once approved!
1. Buy Online Today
You can select from the best suppressor brands including BANISH Suppressors, and we can help you choose the silencer that's right for you.
2. We Digitally Manage all the Paperwork for YOU
We will manage the entire buying process for you, let you pay for your silencer in four eZ-payments and even set up a free NFA Gun Trust that allows others to use your silencer.
3. Shipped to Your Front Door Once Approved
Once approved, we will ship your new silencer directly to your front door.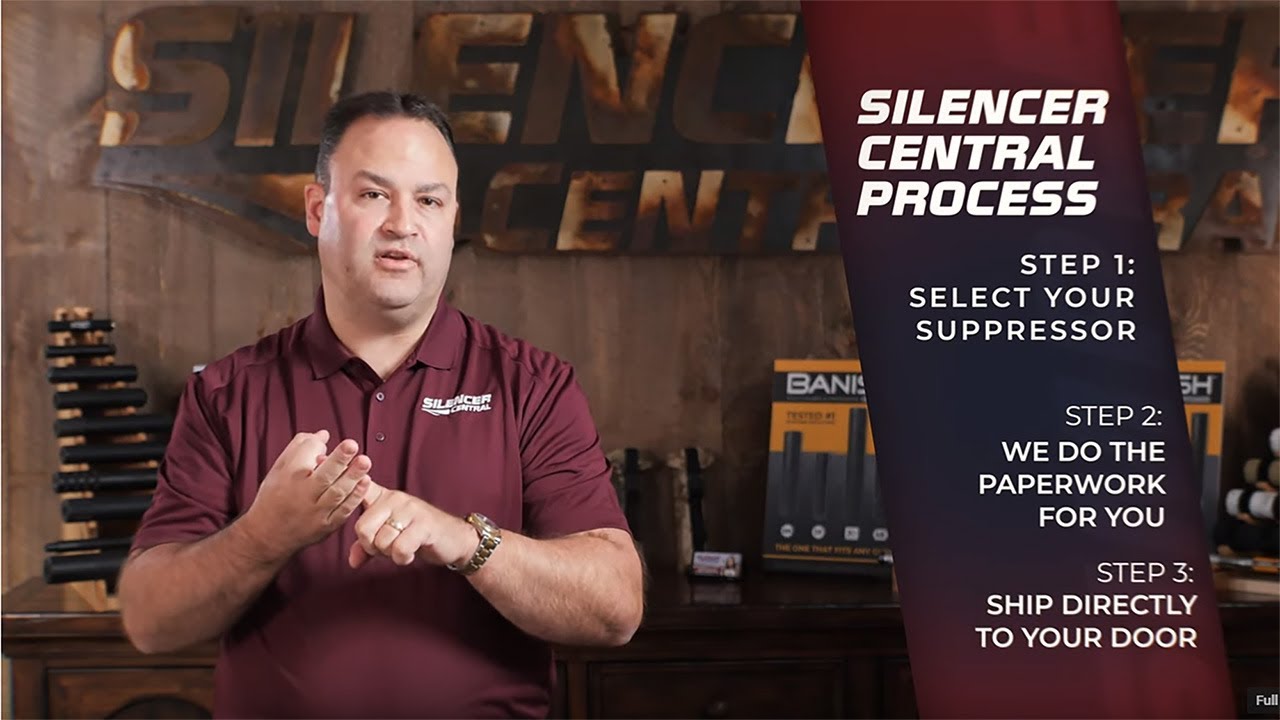 Florida FFL Dealer Address