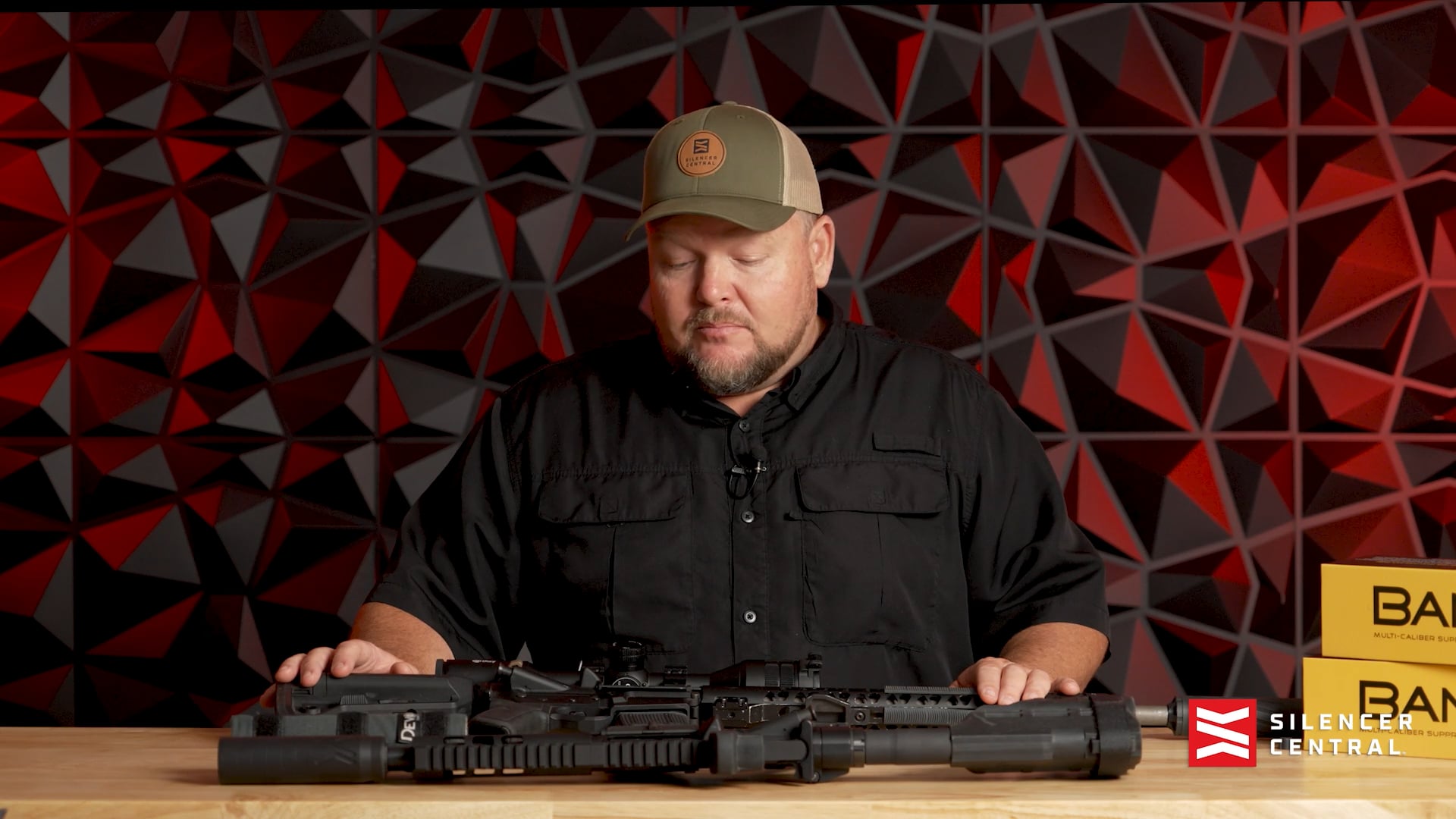 If you're new to the world of suppressors, then you might think that buying one is complicated, scary, and time-consuming. With a little bit of research and help from the right dealer, you'll see that the purchase isn't complicated, it's far from scary, and it doesn't have to be time-consuming.
While the idea of buying a Federally registered gun accessory might be intimidating, it can be quite simple when you work with folks who know what they're doing. In all actuality, it's not that much different than buying a gun from a dealer.
Here at Silencer Central, it's in our best interest to make sure you have the smoothest purchasing experience possible, so we'll bend over backward to get that silencer to you as easily as we can!
HERE'S A PREVIEW OF THE STEPS YOU'LL NEED TO TAKE IN ORDER TO PURCHASE AND RECEIVE YOUR SUPPRESSOR:
SUPPRESSOR LAWS: ARE SUPPRESSORS LEGAL IN MY STATE?
Right now 42 states allow silencer ownership, and 41 of them allow silencers for hunting. You probably already know that hunting with a silencer helps protect your hearing and reduces noise pollution, and fortunately, odds are that hunting with a silencer is legal in your state!
Let's say you are in a state that allows silencer ownership. What's the next step? It's simple, really: If you can legally own a gun, you can also own a silencer, so let's get started!
IN WHICH STATES ARE SUPPRESSORS LEGAL?
There are 42 out of 50 states where you can own a suppressor, which means that people living in 84% of the United States are able to own a suppressor. The odds are definitely in your favor, but we can't forget about the unfortunate other 16% of the population. The eight prohibited states for suppressor ownership include California, Delaware, Hawaii, Illinois, Massachusetts, New York, New Jersey, and Rhode Island. (They're also illegal in the District of Columbia, which isn't a state.)
WHERE IS IT LEGAL TO HUNT WITH A SUPPRESSOR?
Hunting is legal in 41 of the 42 states where suppressors are legal. If you're a hunter and a suppressor owner in Connecticut, I've got some bad news. You live in the only state where you can own a suppressor but not hunt with one.
Fortunately, the attitude toward the use of suppressors while hunting has been changing in a good way. Since 2011, 19 states have legalized hunting with a suppressor. Hopefully, the last state will follow suit.
HOW TO BUY A SUPPRESSOR: A STEP-BY-STEP PROCESS
Buying a silencer with the help of Silencer Central couldn't be any easier! Let's walk through each of the necessary steps first so that you'll know what to do when it comes time to make your first suppressor purchase.
FIND THE RIGHT SUPPRESSOR FOR YOUR NEEDS
Variety is the spice of life, and the suppressor life is spicy! As suppressors have become more popular and accepted by mainstream gun culture, the number of available options has expanded greatly. Thankfully, Silencer Central has a top-notch team who know suppressors forwards and backward. Don't hesitate to reach out by phone or email and someone on staff will be happy to answer any and all of your questions.
CALL OR BUY ONLINE
Whether you prefer to do the whole process online or talk to a person while you work your way through it, we're here to help. You can fill out pretty much everything you'll need to get started on your own online, but we know that you might have some questions. In that case, you can ask us online through the chat feature or just give us a call on the phone and we'll be happy to go through it with you that way as well.
BUY A FEDERAL TAX STAMP
The federal tax stamp for a suppressor costs $200. The cost of the stamp is added to your invoice when you buy from us or any other dealer. The government controls the price of the tax stamp, so there's no way to "shop around" for a deal on that. It is what it is.
SUBMIT OR EFILE THE NECESSARY PAPERWORK
Now that the ATF has gotten the eForm 4 back up and running, you can eFile all of your necessary paperwork. This is, hands down, the fastest and most convenient way to submit everything for approval. If, however, you prefer the old-school method of hard copy paperwork sent through the mail, you can still do it that way. Just know that the hard copy approval time is currently about four times as long as the eFile approval time.
PAY WHILE YOU WAIT WITH EZ-PAY
Silencer Central also makes buying a silencer easy with our eZ-Pay program. We let you start your ATF paperwork and pay your silencer off over three months while the paperwork processes. Just pay 25 percent down, and 25 percent a month for the next three months, and pay your silencer off while you wait for ATF approval. Buying a silencer has never been easier! You can even include the cost of your tax stamp in the eZ-Pay program or set up recurring monthly payments on your credit or debit card to make paying off your silencer easier.
HAVE YOUR BARREL THREADED BY A FULL-TIME GUNSMITH
We offer a unique barrel threading service where you can ship the gun directly to us, or drop it off at any gun show we attend. Simply strip your rifle down to a barreled action for easy handling, and we'll do the rest.
We want to make sure getting your barrel threaded is as easy and painless as possible, so we've put a lot of time and energy into making our barrel threading program the best in the country. Even if you didn't buy a silencer from us, we are happy to thread your barrel because every gun owner deserves the best for their rifle.
GET YOUR SUPPRESSOR SHIPPED RIGHT TO YOUR DOOR
This is one of the best benefits of buying your new suppressor from Silencer Central. We have FFLs set up in all 42 states where suppressors are legal to own and use. Once your approved form and stamp come back to us from the ATF, we will mail your suppressor right to your front door.
That's not a turn of phrase or some kind of marketing gimmick – it's 100% true. We will mail your suppressor right to you!
HOW TO REGISTER YOUR SUPPRESSOR WITH A FREE NFA GUN TRUST
All of the information that is needed to purchase your suppressor – your name, pertinent info, address, make, model, and serial number of the suppressor, etc – is also needed to register your suppressor with an NFA gun trust.
Since we have all of that information from you to facilitate the purchase, we can easily use that information to create your free NFA gun trust.
Of course, you don't have to use a gun trust. You can also file as an individual or a corporation. There are benefits and drawbacks to each of the three options, so if you're not sure, give us a call and we can figure out what is best for your specific situation.
That said, 99.5% of all of our customers end up using our free gun trust.
IS IT REALLY FREE?
Yes, it really is free! When you buy a silencer from Silencer Central, your trust is free. That's our little way of saying thank you for your business.
This Gun Trust is 20-plus pages and allows you to add unlimited co-trustees to also use your silencers or other NFA items. We offer this Gun Trust FREE if you purchase a silencer from Silencer Central. We also help ensure you completed the gun trust correctly so ATF does not reject it. We have completed over 15,000 silencers to gun trust transfers and counting!
HOW DO GUN TRUSTS WORK?
Buying a suppressor in the name of a gun trust is very popular, and comes with a number of advantages.
Each person on the trust may possess the silencer. That means you can let your spouse, family member, or even a trusted friend use the silencer without added paperwork or needing to be in your presence. If you filed as an individual, you must be present when anyone else uses your silencer, which can be a pain.
Just because a gun trust is a legal document doesn't mean your decisions are final and locked in forever. You can change the trust anytime you need to – without letting the BATFE know. This lets you add or remove people at your leisure.
Once you form a trust, you can use it again and again when buying other silencers or NFA items. Trusts make legacy planning easy. Just add the person you want to inherit the silencer to your trust.
FREQUENTLY ASKED QUESTIONS ABOUT THE SUPPRESSOR BUYING PROCESS
Buying a suppressor isn't hard, but that doesn't mean that there aren't some common questions that most first-time buyers have. In all the years we've been in this business, we've gotten pretty good at knowing what the most frequently asked questions are about the suppressor buying process.
HOW LONG DOES IT TAKE TO BUY A SUPPRESSOR?
Buying a suppressor doesn't take long at all. It's fairly simple to fill out all of the forms and paperwork, submit your fingerprints and photo, etc. Getting approval for your suppressor from the ATF after you buy it, however, takes a little longer.
HOW DO I BUY A SUPPRESSOR TAX STAMP?
Buying a suppressor tax stamp is an easy and automatic part of the buying process since your approved forms from the ATF cannot be completed without buying the stamp. They cost $200 and are added to your invoice when you buy from us or any other dealer.
HOW DO I BUY A SUPPRESSOR ONLINE?
By now, you know that the whole "buy a gun online" thing the way it's portrayed in the media is 100% false. Still, you can buy guns online. In that same vein, you can buy a suppressor online. You can even fill out all of the paperwork online, too. However, the purchase is still governed by the NFA branch of the ATF, so it's not like you can just add it to your cart and have it sent to you by next-day delivery.
Buying from Silencer Central is the easiest way to buy a silencer, and it's the closest you can get to "click-and-ship" online buying.
HOW DO ATF EFORMS IMPACT THE BUYING PROCESS?
ATF eForms make the suppressor buying process easier and faster. Everything can be done online and there's no more snail mail involved. This means that approvals from the ATF will be much faster than the 15 months or so that it has taken in the past.
CAN I HUNT WITH MY SUPPRESSOR?
Hunting is legal in 41 of the 42 states where suppressors are legal, and there are a lot of reasons why you should hunt with one so long as it's legal for you to do so. The one where you can own but not hunt with a suppressor is Connecticut.
CAN I USE ONE SILENCER FOR MULTIPLE FIREARMS?
The short answer is yes, you can use one silencer for multiple firearms. However, different suppressors are rated for different calibers, so be sure to read the description of the suppressor before you shoot the wrong caliber through your silencer. Not only can you damage the silencer and your gun, but you can also hurt yourself that way.
DO I NEED TO HAVE A CLASS 3 LICENSE IN ORDER TO PURCHASE A SUPPRESSOR?
Believe it or not, there really is no such thing as a "Class 3 License." That term is derived from a Class 3 SOT, which is part of the licensing you need in order to sell a suppressor. So, no, you don't need a Class 3 License to purchase a suppressor.
HOW WILL YOU MAIL MY SUPPRESSOR?
This is one of the coolest benefits of buying a suppressor from Silencer Central. You no longer need to run down to the gun shop to pick up your approved suppressor. With Silencer Central, your suppressor will come right to you! We can do this because we have FFLs set up in every state where suppressors are legal. Once all of the approval forms come back to us, we will mail your suppressor right to your front door.
READY TO BUY?
At Silencer Central, we are passionate about compliance, knowledge, and community education in firearm sound suppression. With more than 15 years' experience in the industry, we are the nation's largest silencer dealer. We're also the only one licensed in all 42 suppressor-legal states that can sell, process, and ship your new suppressor directly to your front door.
Like all things in life, there's always something more to learn. Hopefully, the information in this article helped answer a lot of your questions. Of course, it's also possible that it brought some new questions to mind that you hadn't thought of before. Or, we might have overlooked your question altogether. Whatever the case, we're here to answer any and all of your questions.
Get Started Today